Waterproof Flooring in Feasterville, PA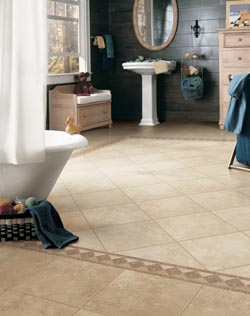 Feasterville Floor is the showroom where you'll find an assortment of attractive, low maintenance waterproof flooring in Feasterville, PA. If you are like many homeowners, you want a no-fuss flooring solution that contributes to your indoor design without demanding much attention. Our waterproof floors are ideal for busy households with small children or pets.
Durable, resistant to spills and stains, these floors continue to look great even after years of heavy use. Stop by our showroom today to browse our selection. With so many vinyl and carpet options to choose from, you're sure to find the right waterproof flooring for your project.
Luxury Flooring that's Built to Last
With our waterproof options, you get sturdy, long-lasting flooring without sacrificing appearances. Take our waterproof luxury vinyl planks, for example. These eye-catching floors imitate the classic look of authentic hardwood. However, they have the bonus of easily withstanding moisture damage.
Luxury vinyl is a home update that lets you enjoy your favorite flooring design in any room of the house, even the kitchen and bathroom. We encourage you to see this popular flooring style for yourself at our showroom. Our store associates are flooring experts who will help you find the best product for your home.
The Convenience of Water-Resistant Carpet
If you are tired of worrying about spills ruining your flooring, our waterproof carpets are ideal for you. Available in a variety of colors, styles, and piles, these carpets are an easy-to-clean flooring option that you can feel good about. The carpets in our showroom are perfect for your home's busiest rooms. Give your home interior a makeover that will still look fresh years from now. These sought-after floors allow you to savor the taste of the easy life. We stock popular styles manufactured by the industry's most recognized names, so you can be sure you are getting a high-performance product.
Waterproof Flooring Installation
Once you have decided which water-resistant flooring style is best for your project, we come to you with our professional installation contractors. With our installation services, you can rest assured that your new purchase is correctly placed for optimal appearance and performance.
We are fully committed to ensuring that each customer has a satisfying shopping experience. Discover for yourself why we are the showroom where friends send friends to find waterproof floors. Our store associates will set your next home remodeling project on track for success.

Contact us to get started on your next home improvement project. We proudly serve customers at our flooring showroom in Feasterville, Pennsylvania.