Tile Flooring in Feasterville, PA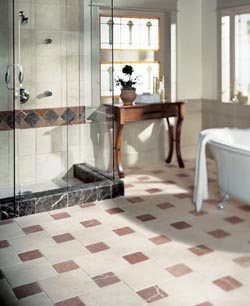 Give your home personality by enhancing your rooms with appealing and enduring tile flooring. Tile floors provide the look you want because they come in so many colors, shapes, and styles. Stop by our expansive flooring showroom to speak with one of our friendly and helpful specialists today. We'll show you how tile floors perfectly blend eye-catching aesthetics with remarkable durability to improve the attractiveness, functionality, and value of your property. All of these benefits come at a very affordable price. Install new ceramic tile, porcelain tile, or slate tile flooring without going over budget.
Boost the value of your home or business by installing new flooring. Tile flooring works perfectly in just about any room in your home. Whether you are looking for an elegant floor for your living or dining room or a durable floor for your kitchen or bathroom, a tile floor is the way to go. Furthermore, our tile flooring installation team can quickly and expertly install your brand-new floor so that it looks beautiful and lasts a long time. Other benefits that come with these floors include:
Impressive Longevity
Low Maintenance
Easy to Clean
Improved Indoor Air Quality
Hypoallergenic Benefits


The High Class Look of Ceramic Tile
Being on a budget shouldn't prevent you from creating a beautiful look for your home or business. That is why our team encourages frugal customers to consider our elegant and affordable ceramic tile flooring products. A budget-friendly option, ceramic tile delivers top-of-the-line appearance and durability that enhances the value of any room.
Once combined with the right glaze or sealant, this flooring option not only gives you the attractive floor you have always wanted, but it has the toughness necessary to stand up against stains, high humidity conditions, and water damage. This gives ceramic tile the ability to work just as well in kitchens and bathrooms as it does in living rooms, bedrooms, or dining rooms. Strong ceramic tile is also unlikely to chip or crack.


The Modern Look of Porcelain Tile
Choose resilient flooring that also features a modern look that is simple and stylish. Capable of retaining their contemporary color and beauty while holding up under heavy foot traffic, porcelain tile is a popular choice for homes with children and pets as well as for offices and other commercial businesses. This impressive flooring option gives you the ability to create a truly unique look for your property. It also lets you show off your one-of-a-kind style without worrying about moisture problems, fading, staining, or scratching. Even after years of heavy usage, your porcelain tile floors will continue to look fantastic.
Porcelain tile is a forward-thinking flooring option that is as aesthetically pleasing as it is strong. Just choose your preferred style, color, design, and texture from our huge selection and then let our team install it for you. Make sure you browse our huge selection tile flooring options from such brand-names as Floorcraft and Design Distinctions at our showroom.


Comprehensive Tile Flooring Installation
When it comes to upgrading your home or business one of the most cost-effective yet impressive options you can have is the ability to customize your floors. An interior designer's dream, ceramic tile gives you the ability to manufacture it to your specifications so that your new floor fits perfectly with your design. Whether you want to imitate natural stone or hardwood flooring, this versatile flooring option brings your ideas to life without making you compromise durability or aesthetics. Allow our tile flooring installation to make your dream floors a reality.

Contact us when you're looking for stunning tile flooring at some of the best prices in the area. Our team of flooring specialists provides flooring sales and installation services for residential and commercial customers throughout Feasterville, Holland, Southampton, Warminster, and Willow Grove, PA, as well as the surrounding areas.