Your Source Residential Sinks in Feasterville, PA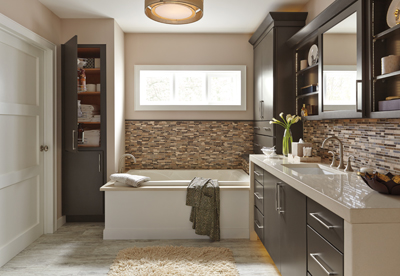 Remodeling projects are full of opportunities to impart your creativity on some of your most frequented spaces. If your plans call for revamping the kitchen or bathroom, why not update your old sinks, too? At Feasterville Flooring America, we offer the resources, materials, and assistance you need to improve your interiors. As your source for residential sinks in Feasterville, PA, we make it easier to realize your vision. Visit our showroom and see our selection of kitchen and bathroom sinks.
Our showroom is your remodeling center. We have teamed up with the well-known manufacturers to provide a vast selection of sinks. With our selection kitchen and bathroom hardware, flooring, and countertops, you will have everything you need to get picture-perfect results.
Sinks That Match Your Style
The sink is a central component in both the kitchen and bathroom. As a source of water in your home, it is important to invest units that perform just as well as they look. Therefore, we present a wide selection of bathroom and kitchen sinks in different styles and materials.
Whether your interior design calls for contemporary aesthetics or traditional looks, we have something for you. Our sink styles are available in a variety of materials, colors, and finishes to match your flooring, countertops, and cabinetry. We sell products from the leading sink manufacturers, including:
Sink Installation by a Professional Team
Come in with ideas, and leave with a plan: we're with you at every step of your project. Our showroom staff is well-versed in interior remodeling, and we are more than happy to provide recommendations. You are welcome to discuss your project with us. We'll help you find the right sinks for your kitchen and bathroom, and can also coordinate it with your new flooring and countertops.
On top of that, we are here to help you get long-lasting results by providing sink installation according to your schedule. Our team has the training, skill, and experience to properly install your new sink.

Contact us to learn more about our selection of residential sinks. We serve residents of Feasterville, PA, including Holland, Southampton, Warminster, Willow Grove, and the surrounding area.