Hardwood Flooring in Feasterville, PA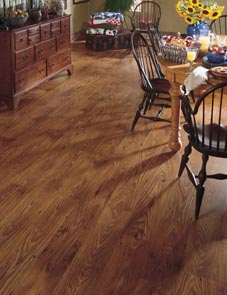 Have you checked out our flooring showroom lately? Do you love the look of hardwood flooring and imagine how it will look in your space? Make your vision a reality when you visit our showroom to check out all of our stunning hardwood flooring collections. Our store is part of the Flooring America brand and carries a large selection of floors to meet all design aesthetics. Whether you are looking for oak floors for a traditional look, or are seeking the exotic feel of Brazilian cherry, floors as unique as you are can only be from our store.
We carry the finest name brands featuring a variety of engineered, solid, and handscraped hardwood flooring styles, finishes, and gloss levels. Our company uses its nationwide buying power to make large purchases of specific materials. This allows us to accommodate clients that are both commercial and residential. With one simple hardwood flooring installation, you will enhance the beauty and charm of your home for many years to come.


Engineered Hardwood Is an Affordable Alternative
Get the most out of your design dollar by working with our selection of engineered hardwood flooring. This type of hardwood is made from layers of natural pressed wood, and it's perfect for those who are on a limited budget.
For moisture resistance and top-notch performance, engineered hardwood floors are our recommended alternative. This specific type of flooring is made to stay intact even with drastic moisture or humidity changes. These floors work particularly well in kitchens, bathrooms, and basements.
You don't have to give up the look and feel you have always dreamed of just because you don't have a fortune to spend. Engineered hardwoods are attractive and affordable, and will withstand the impact of kids and pets. They also help you keep your home as clean as possible with an ease of maintenance you will come to love. This natural alternative is also environmentally friendly. Since you are using existing wood products to create these floors, you are conserving resources for future generations. You don't have to settle for second-rate floors while also protecting the environment.


Benefits of Solid Hardwood for Your Home or Office
Install a seamless surface that delivers a distinctive pattern each and every time with the help of our solid hardwood floors. Because this flooring is cut from a contiguous piece of solid wood, the grain pattern will provide an original look for your home.
With a consistent wood surface, solid hardwoods can expand your perception of open space in any room, and this can add to your home's value. A solid wood floor is also easier to clean – all you need is a mop and some water. You save time and the floor will look better in the process. Solid hardwoods help reduce the levels of allergens in your home, and they look great as well. Your family will enjoy the difference that comes from solid hardwoods when they are able to breathe easier.
With simple maintenance, your hardwood floors will hold their value for many years to come. In addition to aesthetic appeal, solid hardwood offers many other benefits. Hardwood flooring is easy to clean, enhances any décor, and can add to a healthier home environment by reducing the effects of allergens. This style can be sanded down and refinished a number of times. This means you get practically brand-new flooring several times without paying for new hardwood each time. Other benefits of solid hardwood include:
Adding Value to Your Home
Matching Your Design Aesthetic for Years to Come
Creating the Feeling of Warmth in Your Space
Quick Installation that Lasts
The Option to Complete Seamless Repairs
Strength against Wear and Tear
Being Highly Desired by Potential Homebuyers


The Rugged Charm of Handscraped Hardwood
Create a rustic look of frontier charm by choosing our handscraped hardwood for your next renovation project. Hardwood flooring gives you the option to choose from a wide array of finishes and looks. If you are creating a room with a bungalow feel, this texture is the perfect choice.
Handscraped hardwood flooring has a reputation for adding style and function to any room. Providing long-lasting appeal and a solid foundation to your home, we offer high-quality floors that will complement any style effortlessly. Our flooring experts can help you find the best product with amazing possibilities. Some of the species of hardwood flooring that we carry for your home include:
Birch
Ash
Hickory
Oak
Maple
Walnut
Pecan
Invest in the value and appeal of your home with our broad selection of handscraped hardwood. This versatile option for flooring is sought after due to its original look and resilient strength. This natural alternative to traditional flooring will stand the test of time, and looks great with any type of design plan.


High-Quality Hardwood Flooring Brands from Our Showroom
With our strong business relationships with a number of name-brand manufacturers, we are able to start carrying some of the most esteemed hardwood flooring brands. Our store is stocked with engineered, solid, and hand-scraped hardwood options that include:
Downs: For over four generations, this has been a brand that clients trust for a long-lasting floor which never goes out of style.
Downs Performance Wood: Supplied by Armstrong, this manufacturer creates their hardwood flooring to withstand the toughest of conditions.
Floorcraft: Since 1961, this company has focused on form and function for every client. All planks are made from quality materials.
Design Distinctions: Made by Mohawk, this rustic style is a specific collection of hardwood floors that truly serves a stylish customer base.


Hardwood Flooring Installation Backed by a Guarantee
Our quality products are crafted using the finest hardwoods available, ensuring a look for your home that only gets better with age. From rich, elegant tones to natural hues, we have a hardwood to help create the personal look you've dreamed of. Our experienced hardwood flooring installation specialists will ensure your flooring is installed to your satisfaction and looks great.
Protect the investment you are making in the value of your home with our professional approach to hardwood flooring installation. Each and every interior is different, and only a trained specialist has the tools and experience needed to get the right fit that lasts.
Wood flooring can expand and contract with changes in temperature and moisture, and this means a precise installation is critical to protecting your flooring investment. Extend the lifetime of your floors by working with an installation team that takes the time to listen to you.
We guarantee you are satisfied with your purchase by extending the Ultimate Confidence Guarantee to all clients that receive professional installation from our team. If you are not satisfied with your flooring within thirty days after we finish the project, we replace it at no cost to you. For the lifetime of hardwood, any installation-related issues are covered at our expense.

Contact us for a free estimate on the hardwood flooring that can transform your home into a showplace. We proudly serve the communities of Feasterville, PA and the surrounding areas.