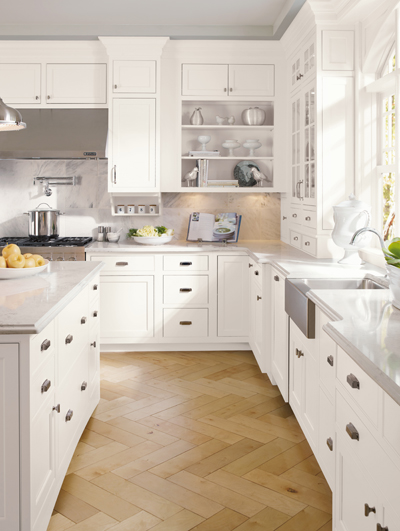 Add a beautiful elegance to your kitchen or bathroom, with one of our backsplashes in Feasterville, PA. At Feasterville Flooring America, we offer a variety of options and materials to design the perfect backsplash for your home. By installing a backsplash, you are adding a personal touch to your rooms while also adding a layer of protection to your walls. Visit our showroom to explore our backsplash collection and find the right options for your home.
A backsplash is an accented feature added to a kitchen or bathroom wall, usually behind the sink. Typically made from tile, it adds a layer of protection to the wall underneath while also adding a unique look to build on your homes aesthetic design.
When choosing tile backsplashes, there are a number of materials the tiles are made from. Some of these include:
Glass
Metal
Porcelain
Ceramic
Natural Stone
When combined with a variety of shapes, sizes, and colors, these tiles give you near limitless design possibilities. At our showroom, we have a number of tile designs set up for you to view and help you decide on a plan for your home.
Easy Cleanup and Maintenance
In the kitchen or bathroom, messes are an inevitability. From water splashing out of the sink to messes created while cooking, there is a lot to clean up. Thankfully with porcelain, ceramic, or stone backsplashes cleanup is a breeze. Typically, all you have to do is wipe down the backsplash with a damp cloth and the work is done, with no need for harsh cleaners or deep scrubbing.
Additionally, most tiles are non-porous which keep them from becoming stained. This is especially great in kitchens where a splashed sauce or drink can easily stain un-protected painted walls. The non-porous nature of tiles also helps to keep moisture and water from reaching the walls which prevents mold or mildew from building up.
Professional Installation
When you choose us for your backsplash purchase, you gain access to our professional and experienced installation team. Our installers have the tools and knowledge to ensure your backsplash installation is handled correctly and that your new wall looks fantastic. We achieve this by developing a thorough design plan with you and then following it to completion. Come into our showroom to learn more about our design and installation services and let us take care of your new backsplash.
Contact us when you are looking for a backsplash for your kitchen or bathroom. We proudly serve Feasterville, PA, and the surrounding areas.